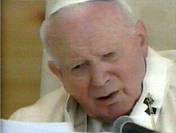 Pope John Paul II: men with deviant affections cannot be priests...
ABC news reported on September 5, 2002:
Pope John Paul II said on Thursday the Roman Catholic Church had to be much more careful not to let men with "deviations in their affections" enter the priesthood to preserve the Church.
He also re-affirmed the Church's rule on celibacy, saying it should not be seen as a "useless" imposition but a vital part of a tradition in which the priest offers himself unconditionally to God.
The pope made his comments, his latest in a series on the crisis rocking the Church, in a speech in Portuguese to Brazilian bishops visiting his summer residence south of Rome.
He said the Church had to be careful not to allow men who had what he said were obvious "deviations in their affections" from entering seminaries to train for the priesthood.
Our readers may recall that two high ranking clergymen in the United States, Bishop Wilton Gregory and Archbishop Gabriel Montalvo (amongst others), have publicly rejected the Vatican position that homosexual men cannot be ordained and have even attempted to hide information from the public:
Bishop Wilton Gregory, head of the NCCB, publicly disagreed with the Vatican's February 1961 policy forbidding ordination of homosexuals on Meet the Press (June 16, 2002), when asked by Tim Russert: "Can a homosexual be a healthy, happy priest?" Bishop Gregory replied: "I think we have some who are. I think we have men who have embraced the promise of celibacy irregardless of their sexual orientation, and they have lived it with integrity." [note: 90% of the sexual abuse cases were by homosexual priests who BROKE their vow of celibacy]. Tim Russert then asked Bishop Gregory: "The Pope's spokesman, Navarro-Valls, had this to say: 'Pope John Paul's spokesman, Joaquin Navarro-Valls, questioned whether ordination of gays were even valid. 'People with these inclinations just cannot be ordained.' [New York Times, March 3, 2002] Do you agree with that?" Bishop Gregory's response: "I believe that that statement was perhaps more expansive than the tradition of the Church. It seems to me that the Church has spoken about living a holy integral life in a much broader context than that."
The U.S. Papal Nuncio Archbishop Gabriel Montalvo refused to release a copy of the Vatican's February 1961 document that states: "Advancement to religious vows and ordination should be barred to those who are afflicted with evil tendencies to homosexuality or pederasty, since for them the common life and the priestly ministry would constitute serious dangers" (no condemnation of the U.S. Papal Nuncio by the American bishops has been forthcoming) (Read more…);
Directives from Heaven...
D63 - The Third Secret
D172 - Priestly Celibacy
D174 - Homosexuality, Part 2


D177 – Seminaries

Links...
Pope John Paul II: Men with deviant affections can't be priests, ABC News, September 5, 2002
http://abcnews.go.com/wire/World/reuters20020905_339.html
Bishops ignore elephant--and camel, National Review, June 18, 2002
http://www.nationalreview.com/novak/novak061802.asp
Dallas Diary, Part II, National Review, June 16, 2002
http://www.nationalreview.com/dreher/dreher061402.asp
Bishops betraying the Catholic Church, WorldNetDaily, June 14, 2002
http://www.worldnetdaily.com/news/article.asp?ARTICLE_ID=27962
An Open Letter to our Bishops in Dallas, Phil Brennan, June 14, 2002
http://www.newsmax.com/archives/articles/2002/6/11/174259.shtml
Bishops' spokesman shielded gay priests, Washington Post, June 13, 2002
http://www.washtimes.com/national/20020613-931300.htm
Report: 111 Bishops Kept Priests, Others Accused of Abuse on the Job, Fox News, June 12, 2002
http://www.foxnews.com/story/0,2933,55076,00.html
Bernardin's Boys
http://www.rcf.org/docs/bernardinsboys.htm
| Home | Introduction | Prophecies | Directives | Order Form | Testimonies | Veronica | News | Photos | Bible | Magazine | Newsletters | Radio Show |
We encourage everyone to print or email copies of this web page to all the Bishops and all the clergy. Also, send this page to as many people as possible.
The electronic form of this document is copyrighted. http://www.tldm.org
Copyright © These Last Days Ministries, Inc. 1998 - 2002 All rights reserved.
P.O. Box 40
Lowell, MI 49331-0040
Revised: February 03, 2010