This radio with it's AM, FM, and Shortwave bands is absolutely necessary to keep informed of the events as they happen in the days ahead...
The New wind-up BayGen Freeplay Plus Radio has AM/FM/Shortwave and with Solar panel and Light...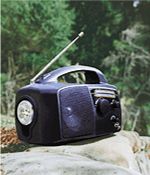 $129.95 We no longer carry this product!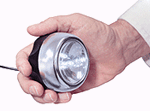 This unit combines Baylis Clockwork Generator with advanced radio technology, a magnetic, detachable white LED light with 6' reel-up cord, and a solar panel! Covers AM/FM and SW.
It is not only the best radio for a power outage, camping and gardening, but its enhanced AM and Shortwave reception may make it better than your present radio.
Continuous coverage of 10 SW bands from 3.0 to 18.1 MHz. The built-in rechargeable battery pack, fully charged, will run the radio for over 40 hours. Built-in stereo headphone jack. Weight: 5 lbs. Size: 11" W x 8" H x 8" D.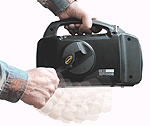 The BayGen Freeplay Plus also features a new 4-way power system:
1. Power your radio and LED light by winding up the Freeplay's generator.
2. Set the radio in the sun and use its built-in solar panel.
3. Power it with the optional AC adapter.
4. The Freeplay Plus can store the excess power from the wind-up generator, solar, and AC in its built-in rechargeable battery pack.
Click here for the order form.
History - How the BayGen FreePlay Plus Radio came to be....
Putting Power into the Hands of Ordinary People
In the middle of a BBC documentary on AIDS in Africa, inventor Trevor Baylis jumped up from his chair and hurried to his research laboratory.
If poor communications in Africa was the biggest barrier to health education, Baylis reasoned, then he should find a way to improve the information flow. And what was the real obstacle? Batteries!
Before the TV show was over, Baylis had produced, "a bark of sound out of an instrument". His simple idea for a wind-up radio set in motion what was to become an extraordinary commercial journey back to Africa.
The resulting South African venture, BayGen, has swept up entrepreneurs, non-governmental organizations, development agencies, former anti-apartheid campaigners, disabled groups, and corporate foundations. The BayGen Freeplay® Radio, endorsed by no less than 20 international humanitarian organizations, is assembled largely by a workforce of the disabled.
Although the first application of the Baylis Generator is in the revolutionary Freeplay® radio, the world can look forward to the launch of a whole range of small electrical appliances which completely obviate the need for either batteries or A.C. power, and whose simple, effective utility has stretched way beyond the shores of Africa.
Click here for the order form.
Home | Introduction | Prophecies | Directives | Order Form | Testimonies | Veronica | News | Photos | Bible | Magazine | Newsletters | Radio Show |
The electronic form of this document is copyrighted.
Quotations are permissible as long as this web site is acknowledged through hyperlink to: http://www.tldm.org
Copyright © These Last Days Ministries, Inc. 1996 - 2004 All rights reserved.
P.O. Box 40
Lowell, MI 49331-0040
Revised: August 24, 2010