| Home - Latest News | Introduction | Bayside Prophecies | Directives from Heaven | Shopping Cart | Testimonies | Veronica Lueken | Miraculous Photos | Bible | Radio Program |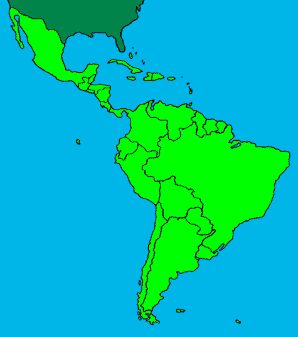 Russia returns to Latin America...
"My child and My children, you must listen well, as I say this also unto you: Latin America shall be a hotbed of fighting, and the United States shall be the prime candidate to enter and have their sons slaughtered upon the lands there. I beg you, as your Mother, to listen to Me. You must not go into Latin America! That is what the plan from Russia is: for you to enter into Latin America." - Our Lady of the Roses, March 18, 1989
Council on Hemispheric Affairs reported on February 14, 2007:
With Washington obsessively focused on the Middle East, and with China and Iran's stepped-up campaign to tighten their trade ties, as well as weapons procurement and resolve geopolitical matters with Latin America, the region's importance is commensurately growing. But when it comes to evaluating Latin America's overall economic and security standings as a destination point for global trade and hemispheric involvement, Russia has been all but left out of the discussion during most of its Putin presidency.

In the past several years, however, and with a burst of new-found visibility, Moscow has been gradually restoring itself as a major regional presence throughout the western hemisphere. It is now on the verge of fully reviving its stake in the region's political and commercial agendas, buying and selling a broad range of commodities and services ranging from frozen fish to military ordnance. The January visit of the Chairman of the Russian Audit Chamber and President Vladimir Putin's personal representative, Sergey Stepashin, to Nicaragua for the inauguration of President Daniel Ortega, is but the latest in a number of possibly important developments that have seen Russia returning to this hemisphere with masterly enthusiasm.

Russia and Latin America in the Post-Cold War World
The years of domestic crisis that followed the Soviet bloc's dissolution and its subsequent isolation after the end of the Cold War era, left several of its allies in the region stranded: most drastically, Cuba. For Latin America, the 1990s have been characterized as the "lost decade," due to the turmoil and tensions that consumed the region's attention as a result of Russia's turn inward. But Russia's deference emphatically ended a few days ago when former KGB-agent President Vladimir Putin's delivered a 'tough' speech to this year's meeting of the Munich Conference on Security Policy. At that gathering he jeered at Washington for overreaching itself and acting as if it presided over a unipolar world. Putin went on to menacingly warn that the United States, "has overstepped its national borders in every way. This is visible in the economic, political, cultural and educational policies it imposes on other nations."

Russia, for its part, has begun a surge of political and commercial proposals, which have included a large number of diplomatic trips being undertaken by Russian envoys to Latin America. These are emblematic of the Kremlin's reenergized foreign policy offensive directed towards the Americas. At least three factors have been contributing to this process. With the exception of Chechnya, Putin has managed to put the Federation back in order domestically, with an invigorated economy that is now aggressively utilizing its gas and oil reserves to rebuild the state's wealth. This campaign has subsequently allowed Moscow to focus on pursuing an aggressive foreign policy in what traditionally is viewed as Washington's backyard.

Washington's focus on its "War on Terror" has left an opening for nations like China, Iran and Russia to become more involved in the region, either (depending on one's perspective) as part of the problem or solution. Russia's reemergence is occurring at a time when much of Latin America is striving towards a more Washington-free environment by promoting indigenous economic integration and looking in directions other than at the U.S. for its trade and political partners (e.g., China, Iran, Canada, Spain). The recent elections of several anti-American, left-leaning leaders, and the desire of others to ally themselves with extra-hemispheric powers, (like the recently formed IBSA, consisting of South Africa, Brazil and India), also has contributed to opening up the environment for Russia's growing influence.

On The Political/Diplomatic Front
Russia has demonstrated its interest in reviving former Soviet-era ties with Latin America and the Caribbean, as well as establishing new ones. In addition to Stepashin's recent trip to Nicaragua, there have been other high-profile Russian protocolic visits to the continent. Last November, a delegation from the lower house of the Russian parliament, led by deputy house speaker Sergei Baburin, visited Mexico City. Joint statements by Mexican and Russian officials expressed a similarity of opinion on topics including the benefits deriving from a multi-polar world. Mexico City additionally demonstrated its determination to have good relations with Moscow by declaring its support for Russia's admission to the World Trade Organization. Coinciding with the Russian delegation's visit to Mexico, the Russian news agency ITAR-TASS published an interview with the Paraguayan foreign minister, Ruben Ramirez Lezcano, in which he stated that "Russia, owing to its geographic position, is for us a key link for establishing contacts with other states of the European and Asian regions.'' Lezcano stressed that Paraguay looks forward to soon seeing the opening of a Russian Federation embassy in Asuncion in the near future.

On December 15, ITAR-TASS reported that the Russian foreign minister, Sergey Lavrov, signed a memorandum with ministers of MERCOSUR's member states to facilitate political dialogue and economic ties. According to the news agency, the document reads: "Political dialogue will include, in particular, the analysis of problems connected with protection of democracy and human rights, peace and international stability, as well as prevention of conflicts and the strengthening of international security." The signatories have also agreed to hold ministerial meetings on a biannual basis. Lavrov's South American tour included a two-day visit to Brazil, where he met with the country's Luis Inacio Lula da Silva and Foreign Minister Celso Amorim. Reflecting upon his visit, the Brazilian foreign minister observed that:

The two countries' cooperation on the international arena is demonstrating the strength of principles and values which our countries share in their attitude to key matters. They include the protection of democratic principles, peace and international stability, disarmament and non-proliferation of weapons of mass destruction, efforts to improve international security, cooperation in the struggle against terrorism and the drug trade, and the strengthening of a multi-polar world.

Upon his return to the Kremlin, Lavrov was quoted as saying. "Brazil is interested in our joining in major projects of interregional importance, including a transcontinental gas pipeline, and modernization of railways in the continent." He was referring to the proposed Venezuelan-led project to build a 10,000-kilometer pipeline through the Amazon that would stretch from Venezuela through Brazil to Argentina, with links to Bolivia, Paraguay and Uruguay. Russo-Brazilian political relations are also on the rise as referred in Moscow's support of Brazil obtaining a permanent seat on the United Nation's Security Council.

Also of importance, was the recent January visit to Cuba by Prime Minister Mikhail Fradkov. Reflecting upon Fradkov's visit, Russian Deputy Foreign Minister Sergey Kislyak explained: "A period of adapting to new realities was not easy, but now we are moving towards a new level of cooperation and mutual interaction with our Cuban friends… Cuba has been and will remain our high-priority partner in Latin America." He went on to add that Russia would continue to advocate "the abolition of the U.S. economic embargo and other sanctions against Cuba." Regarding the Caribbean, ITAR-TASS' Mikhail Makeyev noted that the number of Russian tourists visiting the Dominican Republic having greatly risen, and negotiations were underway regarding the opening of a Russian consulate general on the island.

Russia and the Pink Tide
An interesting development will be how Russia reacts to the Pink Tide cohort of left-leaning countries of the region. The delegations Moscow sent to Nicaragua and Cuba suggest that Moscow is not bringing any discordant ideological baggage to the table and will not try to force its attention on the movement, particularly with Caracas at this point. International attention began to keenly focus on this relationship in 2006 when Venezuelan President Hugo Chavez visited several Russian cities and met with Vladimir Putin. This occurred after Venezuela had initiated the purchase of 100,000 Russian-made Kalishnikov assault rifles, helicopters and other weaponry, much to Washington's chagrin. A July 25 dialogue was conducted on the Russian Mayak radio station between Vladimir Averin and Ruslan Pukhov, director of the Strategies and Technologies Analysis Center, which presented an in-depth analysis of the significance of this visit. In the interview, Pukhov explained that:

Arms supplies will provide a link that may be followed by cooperation in the field of oil and gas. Similar projects are now being discussed in Algeria. […] Chavez is an extravagant person, but that has never deterred us [Russians]. We are not afraid of extravagant leaders. We are quite extravagant ourselves.

However, not everyone views arms supplies as providing a stable and durable link between Russian and its military clients. A January 23 article by Scott Sullivan of the The Conservative Voice argued that apart from the Kalishnikov deal, there have been no mega-contracts between Russia or China with either Venezuela or Bolivia. According to Sullivan's pure speculations, "Russia and China are not avoiding Chavez and [Bolivian President Evo] Morales because they seek good will from the US [… They are avoiding] Chavez and Morales because these two leaders are part of South America's political lunatic fringe who are going down in 2007."

Ironically, Sullivan published this somewhat questionable analysis on the same day that the Associated Press reported that Moscow and Caracas had signed an agreement worth $15 million to cooperate in developing Venezuela's natural gas resources. Though it is true that this agreement and other recent ones, like it are not the mega contracts worth billions of dollars in sales, it is likely that Sullivan may live to see those types of deals. But, in any case, the number of contracts between Moscow and Latin America continue to increase, and the combined numbers of them, in terms of revenue enriching the Kremlin's coffers, are mounting up to real money.

On The Economic/Trade Front
Gradually, Russia is becoming a major trade partner for several Latin American countries. According to a January 11 report by Latin American News Digest, Russia has authorized imports of Chilean pork, poultry, lamb and beef and will soon be extending such purchases to include meat from Mexico. These imports are in addition to an already lengthy roster of products that Moscow is buying from producers throughout the region. For example, Peruvian fishery markets have soared in volume in the past year, with Russia being one of its main targets for Lima's frozen fish sales, according to Peru's Ministry of Production. Meanwhile, ADEX, Peru's association of exporters, has reported that Peruvian grape exports rose to $29.3 million for the period from October to December 2006, which to large part is due to aggressively pursued increase in its shipments to the Russian market.

Regarding the region's southern cone, Uruguay's meat exports in 2006 have sharply increased principally as a result of growing exports to Russia. Moscow now accounts for 21.8% of Uruguay's meat exports, according to data provided by that country's National Meat Institute. In addition, Russia was the largest importer of Argentine horse meat in the first eleven months of 2006, at a figure of $27.3 million. The South American country also saw an increase in the revenue from its beef exports to Russia, Brazil's main meat exporting destination, registering $132.14 million, up from $48.34 according to 2005-06 figures. Russia also accounted for some 51% of Brazilian pork exports in terms of volume and was the main pork export destination for Brazil in 2006. It is clear that Moscow is taking advantage of the income influx from its huge global oil and gas trade, putting it to good use by buying commodities from around the world. Not only is Russia importing a wide range of products from a number of Latin American countries, which satisfies the country's political and commercial needs, but is also increasing its volume of exports to the region annually.

The Defense Industry
The prominent issue that has raised eyebrows in Washington is the robustness of Russia's military defense industry and that the value of its exports to Latin America, including last year's controversial sale of one hundred thousand Kalishnikov assault rifles to Venezuela was the largest in recent years. Chávez has also purchased 24 Su-30 mulit-role fighter planes, as well as 53 transport and attack military helicopters. The Associated Press, the Andean Group Report and other news services have reported that the overall cost of these contracts comes to around $3 billion. Regarding Venezuela's recent arm purchases, the former commander of U.S. Southern Command, General Bantz J. Craddock, declared in September that "I think there's an exporting of instability coming out of Venezuela." Calling the instability "unfortunate," Craddock went on to point out the "glut of money [in Venezuela] from oil. Money talks in a lot of parts of the world. It buys things, influence."

Nevertheless, Washington's preoccupation with Venezuela has not prevented Moscow from promoting military sales there as well as to other Latin American armed forces. At the time of the Kalishnikov sale to Caracas, the Washington Times' Kelly Hearn reported that Russia was also considering a military sale to Argentina. Over the past year, several meetings have taken place between officials from both countries regarding the possible purchase of Russian-made military helicopters and armor-plated patrol boats. Peru is also revisiting former Russian military ties from the 1980s, by signing a deal with Moscow to repair and upgrade the Andean country's Soviet-era Mi-8 military helicopter air fleet. Regarding Moscow's former ties with Lima, the Latin American department director at the Russian Foreign Ministry, Alexander Dogadin, has no trouble saying that "Peru is our traditional regional partner, and we are broadening bilateral relations in various spheres."

What's to Come
During his trip to Nicaragua, Putin's representative, Sergey Stepashin, declared that: "The countries of the region [Latin America] would like to have and count on the presence of a major power that has the necessary economic, military-technical, geopolitical, and scientific and cultural capabilities." A similar statement was made by Ruslan Pukhov, who explained that: "[Russia supports] all countries that pursue in their regions independent foreign and defense policies without looking at Washington, obviously in hope to counterbalance the huge pressure the US and its regional allies are exerting on other countries." Whether it is for political or commercial interests, Russia is certainly making a strong comeback in Latin America, with Venezuela as one of its lynch pins.
Pope Benedict XVI's email address: [email protected]
"That is communism, My children! They will destroy the elderly; they will destroy the newborn, and they will destroy anyone who gets in their way. They have one object: that is to conquer the United States and all of the nations, until, like a fan, it will open up and will border upon all the nations of the world.
"I asked you many years ago, My children, I asked you, with a Mother's heart, to follow My rules. I appeared in Fatima." - Our Lady of the Roses, September 14, 1985
The awesome Bayside Prophecies... http://www.tldm.org/Bayside/default.htm
These prophecies came from Jesus, Mary, and the saints to Veronica Lueken at Bayside, NY, from 1968 to 1995:
RUSE
Shortly after Veronica finished reading the articles in the daily newspaper pertaining to the "demise" of communism in the Soviet Union, and the subsequent birth of the new Commonwealth of Independent States, Our Lady appeared in what Veronica perceived as a message expressed in desperation:
"Do not be deceived. Their father is the father of all liars: satan. Their master plan is in motion. Pray for the light. Minds are clouded. I repeat: it is a ruse. Wake up America or you will suffer much." - Our Lady, December 18, 1991
"FOR IT IS THEIR PLAN TO SUBDUE YOU, ONCE THEY GET THE BILLIONS THAT THEY NEED IN AID"
"As I counseled you all in the past, I said to you as quote: 'This is a ruse,' I repeat again. This is the visit to your country, the once great and Illustrious United States of the world, the nation, the United States of America, the illustrious country that now is leading into a path of darkness. This has been allowed because of the dire straits of your nation. The morality has now been cast aside. Darkness has fallen upon mankind....
"I tell you now, and I will not tell you again. This is the last time you will receive this counsel.
"As in the past Lenin, as in the past Stalin, and Khrushchev; and many others had tried to deceive the United States. They all felt that by trying to ensnare you with delusions of casting aside their communistic aspirations, that they had become as you, a free nation for all.
"I assure you, My children, there is no freedom in Russia. It is all a delusion.
"They seek the monies of the world from the nations of the world. And why do you not learn a lesson? It happened in the time of Lenin; it happened in the time of Stalin. And there you are all on the same road, ready to give billions of monies that should be given to those of your nation and the free nations of the world.
"Do not be deceived, My children, Russia is not free. It is a cosmetic act to delude you. Lenin and Stalin used the same tactics, My children. Why do you not learn from your errors?"
Veronica - Our Lady now, Our Lady is crying. Now She is looking up and She says:
Our Lady - "My tears fall on you, My children. And I must give you also the conclusion to what I have spoken to you of. Lenin and Stalin are not with Us. They were cast off to meet with their god, the prince of darkness, satan.
"It behooves Me to say, and it tears My heart in anguish, that they did not seek to be saved. For those who approach them, as they will approach you in your nation and try to convince you that their way of life without the Eternal Father was a way that should be adopted by all - no, My children!
"I repeat again, because this will be my last discourse to the world on this subject: This man, these two men are of the same creed, color, spirituality - or should I say, My children, lack of spirituality. They have a father who is the father of all liars, so what does it make them, My children - Lenin, Stalin, Khrushchev, Yeltsin, Gorbachev?
"That is the same old plan, My children, and those leaders of your nation are as blind as they were in the past. I tell you for your own good, My children of the United States of America, that once was a nation under God and indivisible, that you will fall! If you do not come out of your slumber now, you will fall!
"For it is their plan to subdue you, once they get the billions that they need in aid, to bring up the economy and buy more armaments. They have not disposed of their armaments, My child and My children. They store them in other nations. They have the same goals as their forefathers." - Our Lady, June 18, 1992
BESIEGE THE POPE
"Every single soul upon earth that hears My voice this evening has an obligation, for the sanctification of their own souls and the souls of those they love, to listen to Me and follow the direction. I wish that all who hear My words this evening will go forward and besiege, if necessary, the Holy Father and the bishops with a request for this consecration of Russia. We do not mean the world, My children, We mean Russia!" - Jesus, June 17, 1989
CONSECRATE RUSSIA, NOT THE WORLD
"When I came to Fatima many years ago, I knew that communism would go throughout the world destroying many nations and attacking My Son's Church. Therefore, I made a promise that if the Pope, the Pope of those days and the Pope today, would unite with all the bishops of the world, all together on one day--not the world--but the bishops and the Pope will unite and pray for the consecration of Russia. I do not mean the world, My children; I mean Russia--Russia, the scourge of mankind. You will pray for Russia. One day must be allotted in which Pope John Paul II and, also, all the bishops of the world must unite on one day, I repeat, and pray for Russia; or Russia will continue to be the scourge from God. Russia will continue to go throughout the world annihilating people and places and countries." - Our Lady, October 2, 1987
IN UNISON WITH ALL THE BISHOPS
"I repeat from My Mother Her words to the world some time ago--and I believe, My child, you have been a voice-box before and a means for Heaven to transport this message to the world--that is, that the Holy Father in Rome, in unison with all of the bishops of the world, must consecrate Russia to the Immaculate Heart of My Mother." - Jesus, March 18, 1989
RED HORSE
"The red horse is war! And war is in the balance next, My child. And what can you do about this? This is My direction from Heaven—and We hope, My children, that you will get this out to the world—unless the bishops and the Holy Father in unity with all the bishops of the world—unless they consecrate Russia to My Mother's Immaculate Heart, the world will be doomed! Because Russia will continue to spread her errors throughout the world, rising up wars and carnage and pestilence and famine." - Jesus, June 17, 1989
WORLD WAR III
Veronica - . . . Our Lady now is looking down sadly. And I see She's pointing now to what looks like a map. Oh, my!
Now as I am watching—it's a map of... oh, I can see Jerusalem, and Egypt, Arabia, French Morocco, Africa. Oh, my goodness! There seems to be a very dense darkness now settling upon those countries. Oh, my!
And Our Lady is saying:
Our Lady - "The start of the Third World War, My child." -- March 29, 1975
INVASION WITH MISSILES
"My child, the last time We spoke to you, We told you that there was a far greater message to be given to mankind. This is the message: THAT RUSSIA PLANS TO INVADE THE UNITED STATES WITH MISSILES!
"There is much that you don't know, My poor children, or perhaps some think it best that you don't know what is happening within your governments. Many of the newspapers and other means of relaying this to you have been silenced.
"But I, as your Mother, beg intercession through Jesus to the Eternal Father and the Holy Ghost to spare you these terrible punishments. If there is a need for more victim souls, let them be satisfied to know that they have been warned.
"My child, I know this has been a complete shock to you, but this message must go throughout the world. Awaken those who sleep before it is too late." - Our Lady, March 26, 1983
Directives from Heaven... http://www.tldm.org/directives/directives.htm
D10 - Consecrate Russia PDF
D104 - Invasion PDF
D136 - Visions of the Great War: The Mideast PDF
D156 - Terrorism PDF
D158 - America the Beautiful PDF
Articles...
Russia:

Communism in Latin America:

Chavez: "Those of you who want to know what type of socialism I have planned for Venezuela should read Marx and Lenin"
http://www.tldm.org/News10/ChavezMarx&Lenin.htm

Ortega returns to power in Nicaragua
http://www.tldm.org/News10/OrtegaReturnsToPower.htm

Moscow's new empire: Latin America
http://www.tldm.org/HotBedOfFightingInLatinAmerica.htm

Latin America going communist
http://www.tldm.org/News7/LatinAmerica.htm

Venezuela's Chavez spreading socialism with oil
http://www.tldm.org/news8/chavezspreadingsocialism.htm

A look at Latin American Leftist leaders
http://www.tldm.org/News9/LatinAmericanLeftists.htm

A Latino cabal is looming
http://www.tldm.org/News9/LatinoCabal.htm

Russia's plan to invade the U.S.

Missile invasion
http://www.tldm.org/news2/missiles.htm

Planned U.S. invasion through Mexico
http://www.tldm.org/news3/Nicaragua.htm

First strike
http://www.tldm.org/news2/first_strike.htm

Masters of deceit
http://www.tldm.org/news2/masters_of_deceit.htm

Russian assassinations and espionage:

Litvinenko's relatives: Russia's "evil powers" killed him
http://www.tldm.org/News9/PutinCriticPoisoned2.htm

Documents link Kremlin to ex-spy's death
http://www.tldm.org/News9/PutinCriticPoisoned3.htm

Another outspoken Putin critic shot dead in Moscow
http://www.tldm.org/News9/PutinCriticShotDead.htm

Russian spying in the United States has reached the high-water mark of the Cold War
http://www.tldm.org/news7/RussianSpyingInAmerica.htm

Russia ordered shooting of Pope John Paul II, says Italian commission
http://www.tldm.org/news9/russiabehindagcasattempttokilljohnpaulii.htm

Russia's death of freedom:

Putin's economic adviser resigns, saying Russia 'not free'
http://www.tldm.org/News8/UnconvertedRussia3.htm

Russia's slow death of freedom
http://www.tldm.org/News9/Russia'sDeathOfFreedom.htm

Pope John Paul II concerned about persecution of the Catholic Church in Russia
http://www.tldm.org/news6/persecution.htm

Russia's military and strategic buildup:

Russian strategic bombers buzz Alaska coast
http://www.tldm.org/News9/RussianBombersBuzzAlaska.htm

Last year Russia built about 25 new nuclear missile systems — in what's considered the fastest increase of nuclear spending since the days of the Cuban Missile Crisis in 1962
http://www.tldm.org/News9/RussiaNotAFriend.htm

Russia oil production overtakes Saudi Arabia
http://www.tldm.org/News9/RussiaOvertakesSaudiArabia.htm

NATO paper warns of Russian global gas cartel
http://www.tldm.org/News9/NATOWarnsOfRussianGasCartel.htm

Russia's master plan
http://www.tldm.org/news/master_plan.htm

Russia developing new nuclear missile
http://www.tldm.org/news7/Russia'sNewNuclearMissile.htm

WorldNetDaily exposé on Russian military confirms Our Lady of the Roses June 18, 1992 message
http://www.tldm.org/news/expos%E9.htm

Russia's orchestration and support of global terrorism:

Russia is now world's #1 seller of military weapons
http://www.tldm.org/News9/RussiaArmingWorld.htm

Israeli Internal Security Minister: "All the terrorists surrounding Israel" are using Russian weapons
http://www.tldm.org/News9/RussiaSupplyingTerrorists.htm

Russia supplied Hezbollah with intelligence during war
http://www.tldm.org/News9/RussiaSuppliedHezbollahWithIntelligence.htm

Hezbollah using Russian-made anti-tank missiles
http://www.tldm.org/News9/HezbollahRussianWeapons.htm

Russian footprints
http://www.tldm.org/News9/RussianFootprints.htm

Yasser Arafat was trained in terrorism by the Russian KGB
http://www.tldm.org/news2/arafat.htm

President Putin, Middle East arms merchant
http://www.tldm.org/News9/RussiaMideastArmsMerchant.htm

Putin defends Russian missile sales to Syria
http://www.tldm.org/news8/russia%2Dsyriamissiledeal.htm

Russia tied to missing weapons in Iraq
http://www.tldm.org/news7/RussiaIraqWeapons.htm

Russian arms network seen behind Al-Qaeda
http://www.tldm.org/news4/arms%5Fnetwork.htm
Links:
A new methodology for Moscow's wet affairs, Jeff Nyquist, November 27, 2006
http://www.financialsense.com/stormwatch/geo/pastanalysis/2006/1127.html

The plot against America exposed, Wes Vernon, November 27, 2006
http://www.renewamerica.us/columns/vernon/061127

Russia police 'regularly torture', BBC, November 22, 2006
http://news.bbc.co.uk/2/hi/europe/6169242.stm

Death of the woman who shamed Moscow, The [U.K.] Times Online, October 8, 2006
http://www.timesonline.co.uk/article/0,,2089-2393752,00.html

"The corrosive evil of a forgotten war", By Anna Politkovskaya
http://www.indexonline.org/en/news/articles/2006/3/russia-anna-politkovskaya-the-corrosive-evil.shtml

Straight talk, Jeff Nyquist, April 22, 2005
http://www.financialsense.com/stormwatch/geo/pastanalysis/2005/0422.html

Russia's challenge to America, Jeff Nyquist, December 15, 2004
http://www.financialsense.com/stormwatch/geo/pastanalysis/2004/1215.html

The enemy behind our enemy: Russia is the spider at the center of the global terrorism web, Jeff Nyquist, January 14, 2003
http://www.financialsense.com/stormwatch/geo/pastanalysis/2003/0114.htm

Russia's game, Jeff Nyquist, August 27, 2003
http://www.financialsense.com/stormwatch/geo/pastanalysis/2003/0827.htm

Dangerous Russia, Chris Ruddy, December 17, 2003
http://www.newsmax.com/archives/articles/2003/12/16/232628.shtml

Surprise Nuclear Attack, Part 1, J.R. Nyquist (WorldNetDaily)

Surprise Nuclear Attack, Part 2, J.R. Nyquist (WorldNetDaily)

Russia's Economic Moves and What They Portend, J.R. Nyquist (WorldNetDaily)

A Genuine Threat of War? J.R. Nyquist (WorldNetDaily)

Russian Threats: Then and Now - Introduction (WorldNetDaily)

Can Moscow Be Trusted? Russia's Hidden Nuclear Missiles - Part I (WorldNetDaily)

Can Moscow Be Trusted? Inside Russia's Magic Mountain - Part II (WorldNetDaily)

High Anxiety, J.R. Nyquist (WorldNetDaily)

Ex-spy Fears Sneak Russian Attack. Newsmax.com, January 25, 2000

China Reveals Nuclear War Plans Against U.S. (UPI, March 20, 2000)

Russia and China Prepare for War -- Part 1 (Christopher Ruddy)

Russia and China Prepare for War -- Part 2: Clinton's Sell-Out of America: (Christopher Ruddy)

Russia and China Prepare for War -- Part 3: Russia and China -- Our Friends? (Christopher Ruddy)

Russia and China Prepare for War -- Part 4: Russia May Launch a Surprise Attack Against US (Christopher Ruddy)

Russia and China Prepare for War -- Part 5: Russia's Recent Military Build-up (Christopher Ruddy)

Russia and China Prepare for War -- Part 6: Eleven Signs of a Russian Surprise Attack (Christopher Ruddy)

Russia and China Prepare for War -- Part 7: United States is Unprepared for War (Christopher Ruddy)

Russia and China Prepare for War -- Part 8: Why are Most Americans Oblivious to These Terrifying Facts? (Christopher Ruddy)
There are 4 things you must have to survive the days ahead:
1.) The Douay-Rheims Holy Bible...
"You must all obtain a copy of the Book of life and love, the Bible. Do not accept the new mods. Try to find in your bookstores the old Bibles, My children, for many are being changed to suit the carnal nature of man. I repeat, sin has become a way of life." - Our Lady, October 6, 1992
"I must ask you all to read but a few short chapters a day now, the Book of life and love, your Bible. Knowledge must be gained for all the disciples of My Son, for you will be attacked by scientific minds. But do not be concerned what you will say to them when accosted, for the words will be given to you by the Spirit." - Our Lady, April 10, 1976 (Order Form)
2.) The total Virgin Mary's Bayside Prophesies in 6 paperback books...
The Virgin Mary brings directions from God, the Father in Heaven on how to survive the end times. God, the Father, through the Virgin Mary, tells what is coming, how to prepare for it, how to survive it, and how to even stop it. These six volumes along with the Bible are most important to save yourself and your loved ones. Order it now. Tomorrow may be to late. These 6 pocket size paperback books costs $33.00. (Order Form)
3.) Heaven's Home Protection Packet...
Heaven's Home Protection Packet...
Our Lord stated we must have crucifixes upon the outside of all of our outside doors. In the "Heaven's Home Protection Packet" there are instructions, four crucifixes, a tube of special cement for wooden or metal crucifixes. Wooden crucifixes adhere better to the doors when the aluminum strap is removed from the back. Put a light coat of cement on the back of the crucifix and then press it to the outside of the door. If you have any problems, you can call us at 616-698-6448 for assistance. This Heaven's Home Protection Packet is available for a donation of $5.00 plus $3.00 shipping and handling. Send $8.00 to TLD Ministries, P.O. Box 40, Lowell, MI 49331. Item # P15 (Order Form)

Crucifix on front and back door... The only real protection against terrorists...

Jesus - "Pray and wear your sacramentals. And, also, My children, I ask you again to place a crucifix upon your door. Both front and back doors must have a crucifix. I say this to you because there will be carnage within your areas, and this will pass you by if you keep your crucifix upon your doors." (6-30-84) (Testimonies of lives and homes saved by the crucifixes.) http://www.tldm.org/news/crucifix.htm (Order Form)
4.) Heaven's Personal Protection Packet...
Heaven's Personal Protection Packet . . .

Our Lady tells us to be protected from all evil, we must wear the following sacramentals around our necks: a Rosary, a crucifix, the St. Benedict medal, Our Lady of the Roses medal, the Miraculous Medal, and the scapular. We have all of these sacramentals in a packet we call "Heaven's Personal Protection Packet." This packet is available for a donation of $5.00 plus $3.00 shipping and handling. Send $8.00 to TLD Ministries, P.O. Box 40, Lowell, MI 49331. Item # P5 (Order Form)

Our Lady of the Roses, Mary Help of Mothers promises to help protect our children. On September 13, 1977, She said, "He has an army of ogres wandering now throughout your country and all of the countries of the world. They are in possession of great power; so wear your sacramentals, and protect your children and your households. Learn the use every day of holy water throughout your household. Insist even with obstructions, insist that your children always wear a sacramental. One day they will understand that they will repel the demons."
On February 1, 1974, Our Lady said, "My children, know the value of these sacramentals. Guard your children well. You must awaken to the knowledge that you will not be protected without the sacramentals. Guard your children's souls. They must be surrounded with an aura of purity. Remove them if necessary from the sources of contamination, be it your schools or even false pastors."
This Heaven's Personal Protection Packet is available for a donation of $5.00 plus $3.00 shipping and handling. Send $8.00 to TLD Ministries, P.O. Box 40, Lowell, MI 49331. You may use your MasterCard, VISA, or American Express and call 1-616-698-6448. Item # P5 (Order Form)

Your names have been written in Heaven… "It is not by accident that you are called by My Mother, for your names have been written in Heaven.... But with this great grace you have great responsibility to send this Message from Heaven throughout the world, for if you are able to recover just one more for Heaven, an additional star shall be placed in your crown." - Jesus, August 5, 1975

A great obligation to go forward... "It is not by accident that you are called by My Mother, for it is by merit and the prayers that have risen to Heaven for your salvation. For those who have received the grace to hear the Message from Heaven, you have a great obligation to go forward and bring this Message to your brothers and sisters. Do not expect a rest upon your earth, for you will have eternal rest very soon." - Jesus, June 12, 1976

The sin of omission... "The sin of omission shall condemn many to hell, be they layman or Hierarchy. I repeat: not the sin of commission, but the sin of omission will commit many to hell." Our Lady of the Roses, October 6, 1980

We encourage everyone to print or email copies of this web page to all the Bishops and all the clergy. Also, email or send this web page to the news media and as many people as possible.

| Home - Latest News | Introduction | Bayside Prophecies | Directives from Heaven | Order Form | Miracles & Cures | Veronica Lueken | Miraculous Photos | Bible | Radio Program |

The electronic form of this document is copyrighted.
Quotations are permissible as long as this web site is acknowledged with a hyperlink to: http://www.tldm.org
Copyright © These Last Days Ministries, Inc. 1996 - 2012 All rights reserved.
P.O. Box 40 616-698-6448
Lowell, MI 49331-0040
Revised: August 19, 2012