| Home - Latest News | Introduction | Bayside Prophecies | Directives from Heaven | Shopping Cart | Testimonies | Veronica Lueken | Miraculous Photos | Bible | Radio Program |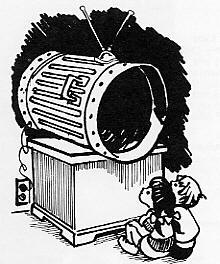 Too much television, internet linked to long-term health problems for children...
"My children, you must separate what is important and what is not. The spirit is your eternal flame. You will guide by it, My children. Nourish your spirit and not your human bodies. Too much time is spent in amusement of the human body, seeking entertainment that is being created by satan to poison your minds. As I have counseled you in the past, your medias of entertainment are polluted. Your children must be protected against this pollution in pornography and exploitation of sex." - Our Lady, June 16, 1977
LifeSiteNews reported on December 3, 2008:
Children who spend too much time watching television, playing video games, and surfing the Internet are at an increased risk for a plethora of health problems, concludes a survey of several studies published today.

The advocacy group Common Sense Media published the findings after scrutinizing 173 studies since 1980 that offered data on the effects of television, video games, Internet, films, music, and cell phones on children. The review found that 80% of the studies showed that greater exposure to such media was linked to various health problems, particularly childhood obesity.

Data also pointed to an increased risk factor for smoking, drug and alcohol abuse, poor school performance, and early sexual activity in children and teens with higher media exposure. The survey was conducted by Yale University School of Medicine, National Institutes of Health, and California Pacific Medical Center.

"This review is the first ever comprehensive evaluation of the many ways that media impacts children's physical health," said Ezekiel J. Emanuel, M.D., Ph.D., National Institutes of Health and lead researcher on the study. "This study provides an important jumping-off point for future research that should explore both the effects of traditional media content and that of digital media - such as video games, the Internet, and cell phones - which kids are using today with more frequency."

Emanuel said in a Reuters interview that he found the results surprisingly clear on the detrimental effects of too much media, and expressed concern over the fact that many of the health problems were "probably more a matter of quantity than actual content," something that parents will find difficult to rein in amid the "media-saturated" lifestyle of modern America.

One study cited showed that children at the age of three are more likely to be obese by the age of seven if they watch more than eight hours of television a week. Research shows, however, that American children, including toddlers, usually watch far more than eight hours a week.

The study reports that the average American child spends nearly forty-five hours every week with media, including television, movies, magazines, music, the Internet, cellphones and video games. By comparison, the report says seventeen hours a week are spent with parents, and thirty hours a week in school.

James P. Steyer, Common Sense Media founder and CEO, urged parents and educators to "consider the effects of media" as a key component of protecting children's health in light of the survey's findings.

"This report makes is clear that we need a bold new agenda on media and technology use," said Steyer. "We hope this report will create a new sense of urgency in that regard."

See related LifeSiteNews.com article:

Cover of Maclean's Magazine Notes Children as Young as 8 View Online Porn Regularly
http://www.lifesitenews.com/ldn/2008/jun/08062705.html
"There are parents who are not practicing true discipline with their children. Permissive attitudes, while parents grow lax; parents who do not watch the forms of entertainment of their children; many young souls are losing their purity, learning to accept sin as a way of life. Woe to these parents! What are you doing? Have you tried to eliminate this evil from your world? from your lives? Do you not know that this is all the evil plan to destroy you and your children? What are you doing to change this? You look toward the wrong road when you accept and close your eyes, and deny the dangers to your soul." - Our Lady, May 10, 1972
"O My children, the parents of your nation, the parents of the world, must now assume a full responsibility for the salvation of their children's souls. You cannot depend upon your school systems, your entertainment medias, your avenues of knowledge to the young, for they have become polluted and are cesspools of error and degradation." - Our Lady, October 6, 1977
Directives from Heaven...
D42 - Mass Media PDF
D72 - Television PDF
Articles...
The great moral dangers of television


http://www.tldm.org/news6/television1.htm

Television: pathetic sights and consequences
http://www.tldm.org/news6/television2.htm

Television presents to you "a way of life that is not akin to the way of your God"


http://www.tldm.org/news6/television3.htm

Pope Pius XI on the corrupting influence of television and movies
http://www.tldm.org/news6/vigilanti%2Dcura.htm

Archbishop O'Malley calls MTV 'poisonous'
http://www.tldm.org/News6/MTV.htm
Links...
The nefarious power of television
http://www.traditioninaction.org/Cultural/D006cpTelevision_Fitzgerald.htm
There are 4 things you must have to survive the days ahead:
1.) The Douay-Rheims Holy Bible...
"You must all obtain a copy of the Book of life and love, the Bible. Do not accept the new mods. Try to find in your bookstores the old Bibles, My children, for many are being changed to suit the carnal nature of man. I repeat, sin has become a way of life." - Our Lady, October 6, 1992
"I must ask you all to read but a few short chapters a day now, the Book of life and love, your Bible. Knowledge must be gained for all the disciples of My Son, for you will be attacked by scientific minds. But do not be concerned what you will say to them when accosted, for the words will be given to you by the Spirit." - Our Lady, April 10, 1976 (Order Form)
2.) The total Virgin Mary's Bayside Prophecies in 6 paperback books...
The Virgin Mary brings directions from God, the Father in Heaven on how to survive the end times. God, the Father, through the Virgin Mary, tells what is coming, how to prepare for it, how to survive it, and how to even stop it. These six volumes along with the Bible are most important to save yourself and your loved ones. Order it now. Tomorrow may be to late. These 6 pocket size paperback books costs $33.00. (Order Form)
3.) Heaven's Home Protection Packet...
Heaven's Home Protection Packet...
Our Lord stated we must have crucifixes upon the outside of all of our outside doors. In the "Heaven's Home Protection Packet" there are instructions, four crucifixes, a tube of special cement for wooden or metal crucifixes. Wooden crucifixes adhere better to the doors when the aluminum strap is removed from the back. Put a light coat of cement on the back of the crucifix and then press it to the outside of the door. If you have any problems, you can call us at 616-698-6448 for assistance. This Heaven's Home Protection Packet is available for a donation of $7.00 plus $3.00 shipping and handling. Send $10.00 to TLD Ministries, P.O. Box 40, Lowell, MI 49331. Item # P15 (Order Form)

Crucifix on front and back door... The only real protection against terrorists...

Jesus - "Pray and wear your sacramentals. And, also, My children, I ask you again to place a crucifix upon your door. Both front and back doors must have a crucifix. I say this to you because there will be carnage within your areas, and this will pass you by if you keep your crucifix upon your doors." (6-30-84) (Testimonies of lives and homes saved by the crucifixes.) http://www.tldm.org/news/crucifix.htm (Order Form)
4.) Heaven's Personal Protection Packet...
Heaven's Personal Protection Packet . . .

Our Lady tells us to be protected from all evil, we must wear the following sacramentals around our necks: a Rosary, a crucifix, the St. Benedict medal, Our Lady of the Roses medal, the Miraculous Medal, and the scapular. We have all of these sacramentals in a packet we call "Heaven's Personal Protection Packet." This packet is available for a donation of $6.00 plus $3.00 shipping and handling. Send $9.00 to TLD Ministries, P.O. Box 40, Lowell, MI 49331. Item # P5 (Order Form)

Our Lady of the Roses, Mary Help of Mothers promises to help protect our children. On September 13, 1977, She said, "He has an army of ogres wandering now throughout your country and all of the countries of the world. They are in possession of great power; so wear your sacramentals, and protect your children and your households. Learn the use every day of holy water throughout your household. Insist even with obstructions, insist that your children always wear a sacramental. One day they will understand that they will repel the demons."
On February 1, 1974, Our Lady said, "My children, know the value of these sacramentals. Guard your children well. You must awaken to the knowledge that you will not be protected without the sacramentals. Guard your children's souls. They must be surrounded with an aura of purity. Remove them if necessary from the sources of contamination, be it your schools or even false pastors."
This Heaven's Personal Protection Packet is available for a donation of $6.00 plus $3.00 shipping and handling. Send $9.00 to TLD Ministries, P.O. Box 40, Lowell, MI 49331. You may use your MasterCard, VISA, or American Express and call 1-616-698-6448. Item # P5 (Order Form)

Your names have been written in Heaven… "It is not by accident that you are called by My Mother, for your names have been written in Heaven.... But with this great grace you have great responsibility to send this Message from Heaven throughout the world, for if you are able to recover just one more for Heaven, an additional star shall be placed in your crown." - Jesus, August 5, 1975

A great obligation to go forward... "It is not by accident that you are called by My Mother, for it is by merit and the prayers that have risen to Heaven for your salvation. For those who have received the grace to hear the Message from Heaven, you have a great obligation to go forward and bring this Message to your brothers and sisters. Do not expect a rest upon your earth, for you will have eternal rest very soon." - Jesus, June 12, 1976

The sin of omission... "The sin of omission shall condemn many to hell, be they layman or Hierarchy. I repeat: not the sin of commission, but the sin of omission will commit many to hell." Our Lady of the Roses, October 6, 1980

We encourage everyone to print or email copies of this web page to all the Bishops and all the clergy. Also, email or send this web page to the news media and as many people as possible.

| Home - Latest News | Introduction | Bayside Prophecies | Directives from Heaven | Order Form | Miracles & Cures | Veronica Lueken | Miraculous Photos | Bible | Radio Program |

The electronic form of this document is copyrighted.
Quotations are permissible as long as this web site is acknowledged with a hyperlink to: http://www.tldm.org
Copyright © These Last Days Ministries, Inc. 1996 - 2010 All rights reserved.
P.O. Box 40 616-698-6448
Lowell, MI 49331-0040
Revised: December 02, 2010