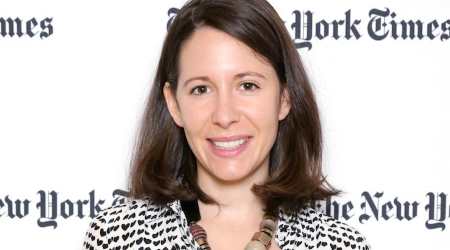 These Last Days News - June 12, 2017
New York Times Advises Parents How to Raise 'Feminist Boys'...
"As a Mother, My heart is torn, for the example of many mothers on earth is poor. Woman, who has come from Adam, would regain her glory by childbearing. This, too, has she cast aside for the ways of darkness. No longer does she seek to purge her soul and to enter the Kingdom of the Father. Her sins multiply, for no longer does she not only miss the opportunity of purging, but she has committed murder! All the evils of the flesh.
"Women of the world reject their places as helpmates to their husbands. What manner of creature have they become? The Day of the Lord approaches fast upon you, for what has been foretold is coming to pass." - Our Lady of the Roses, March 24, 1974
ALL PARENTS HELD RESPONSIBLE
"The children are the victims of their elders. All parents will be held responsible for the fall of their children's souls.
"You parents must well remember that satan seeks to claim the souls of all those destined for Our Kingdom. But you parents must now struggle to save them from the reach of satan, for you did not prepare yourselves when you were warned of the dangers that were lying ahead of you. Yes, you turned a deaf ear. I had warned you for many years. You deafened your ears and hardened your hearts.
"Your country is calling upon itself a greater danger, for when they seat themselves against My Son and seek to lock Him out of their houses and to lock Him out of their country, We have no recourse but to chastise you as We would disobedient children. " - Our Lady, July 25, 1971
The above Messages from Our Lady were given to Veronica Lueken at Bayside, New York. Read more
TruthRevolt.org reported on June 9, 2017:
by Trey Sanchez

The New York Times is dispensing parenting advice in its latest identity politics piece all about raising "feminist sons."

"We raise our girls to fight stereotypes and pursue their dreams, but we don't do the same for our boys," writes columnist Claire Cain Miller. "They're discouraged from having interests that are considered feminine. They're told to be tough at all costs, or else to tamp down their so-called boy energy."

Miller reached out to "experts" for her piece, including rabid feminist Gloria Steinem, and featured her dastardly quote:

"I'm glad we've begun to raise our daughters more like our sons, but it will never work until we raise our sons more like our daughters."

"That's because women's roles can't expand if men's don't, too," Miller explains. "Men are falling behind in school and work because we are not raising boys to succeed in the new, pink economy."

"Skills like cooperation, empathy and diligence — often considered to be feminine — are increasingly valued in modern-day work and school, and jobs that require these skills are the fastest-growing," she adds.

So, what's a boy to do, then? According to Miller, let him cry, let him be himself, teach "no means no," and never use "girl" as an insult. That should make for a good feminist son, she argues.

Miller complains that children's toys are too divided across gender lines and that boys should be encouraged to play with dollhouses and to play dress up. (And she doesn't mean just pretending to be an army man or superhero, either). She also warned parents against enforcing "traditional gender roles."

A follow-up article came days later which reached out to readers and even more exports for their responses. Those lining up with Miller's narrative were prominently featured.

Sociology professor at the University of Massachusetts Amherst Dan Clawson said, "Men need to step up. Feminist fathers are key – and feminism here doesn't mean supportive statements, it means men doing so-called women's work, whether that is child care, cooking or cleaning."

A wife and mother said:

"My husband is a decent person, but he freaked out when I first told him I wasn't taking his last name. I had to teach him how to dust, clean a bathroom and do other household chores. It has taken years to convince him these chores are also his responsibility. I had to point out to my husband that everyone thinks he is an amazing father (he is, but that's not the point) when he shows up for school activities, but no one thinks twice if he doesn't. On the other hand, I am a negligent parent when I don't show. My husband is more than a decent person and a great dad, but he is no feminist."

An English teacher said she made her classes read books on "feminist critical theory" and "a variety of Beyonce lyrics" to combat sexism she witnessed from her male students. Miller, and all the experts, praised this teacher for doing so.

"May others emulate you!" responded Anne-Marie Slaughter, chief executive of the think tank New America.

Only a few criticisms were addressed in the responses and they were all quickly shut down with liberal talking points.

A reader in Dallas simply asked, "Why can't you write a story titled 'How to Raise a Son?'" (Instead of "How to Raise a Feminist Son.")

Professor Clawson said, "Because we live in a sexist world, and overcoming that sexism takes conscious effort."

A female reader from Louisville also disagreed with adding the feminist label to the mix: "Why not just rear ALL children to be considerate of others, friends with all classmates, and for whatever chores they are assigned! We need not label it any name at all!"

Again, Professor Clawson recoiled, "One response to Black Lives Matter is that all lives matter. Sure. But some points need to be stressed, and others are taken for granted. Girls are taught that it's O.K. to cry, that they need to do chores, and so on. It's worth stressing that boys need to learn that, too."

When someone added a bit of snark with their response — "*how to raise a decent person* There. I fixed it for you." — the great and wise professor opined:

"One approach is to assume that child raising is gender neutral, that no special effort is needed to raise a feminist son. For an isolated family living on the frontier, maybe; for those of us living in a world structured around gender, it won't work. We need to make extra efforts to countermand what TV, movies, other families, etc., are constantly teaching our children."

To recap: You can't just raise good, decent human beings in this ultra-liberal culture. There must be identity labels put on everything. Which is strange, because the same people tell us that stereotypes are bad. But now, we have to stereotype so we don't stereotype. Got it?
"Do you not recognize, My children, the signs of your times? Read and learn: 'Women will become unlike women. They shall go forth, and seven women will take hold of one man and say to him: Make me as you are. I wish to eat your bread.' [see Isaias 4:1]
"Know, My child, this simple lesson, that in these days of the latter times, women shall seek to cast off their role as mother and a woman. Woman will cast it off under the direction of satan, and murder her children. Woe to the woman who does not repent of this vile abomination! She has walked the road to eternal damnation and hell. Repent, O woman, or forever be lost!" - Our Lady of the Roses, March 18, 1975

MANY PARENTS HAVE LOST THEIR WAY
"I ask you now, can you not turn from your ways of despoilment? Your children are suffering as they are left to roam, to make their own decisions without the guidance of the family.
"My child and My children, please, the Ball of Redemption shall be sent upon mankind if he does not heed the measures that I have given you tonight to save your country and other countries of the world. Little children are left to roam, to make their own decisions while the parents go merrily on their way, not thinking of the souls that they had to guide. Many parents have now lost their way. They have become embroiled with mankind and not God.
"Parents, teach your children the words of the Bible. Make the Bible a necessary book in your home, not something that may be given to you as a gift by mankind, but as a gift from the Eternal Father. Read this book to your children. They are thirsting for the knowledge from God. Only you as parents can save them." - Our Lady, June 18, 1994

EDITOR'S NOTE: We welcome your comments at the end of this page. Email a link or print out a copy of this web page to your clergy, family, friends and relatives. Email this page to a friend.
We strongly encourage you to print and/or email copies of this web page to all the bishops and clergy. Also, email or mail a copy of this web page to the news media and as many other people as possible. Email a copy of this page to everyone you know.
We urgently need your prayers and financial support to be able to continue to create these web pages. Click here... Thank you in advance.

Wars are a punishment for man's sins. Abortion, homosexuality, and the changes in the Catholic Church cry out to Heaven for just punishment.
When you pray the Holy Rosary, you have Our Lady's hand in your hand. When you pray the Holy Rosary, you have the power of God in your hands. Start now! Let's All Pray the Rosary Together Around the World for the Conversion of the Feminists... Click here...

The Virgin Mary's Bayside Prophecy Books are Now Available in E-book Version. Click Here Now!
Our Lady of the Roses Awesome Bayside Prophecies... http://www.tldm.org/Bayside/ These prophecies came from Jesus, Mary, and the saints to Veronica Lueken at Bayside, NY, from 1968 to 1995.
EXERCISE DISCIPLINE IN THE HOME
"Already as you watch the days go by, you cannot avoid noticing the acceleration of evil. It will be truly father against son, mother against daughter. There will be division within the home as satan seeks to divide and conquer.
"Parents must now exercise discipline in the home. Your children now will be subjected to all manner of evil and corruption from the forces of darkness that are loosed upon your earth.
"Need I add to My Mother's counsel that your country now has been invaded by a diabolical force, a conspiracy of evil for the destruction of the United States. Your children, the youth of your country, shall be used as instruments for this destruction unless you as parents and leaders--government leaders, I call unto you to act now and prevent the slaughters that will increase daily within your country." - Jesus, December 7, 1977

BRING YOUR CHILDREN OUT OF THE DARK VOID
"I have brought you the plan for your salvation. It will now be your decision. You must eliminate the evil one in your schools, your churches, your homes, and your entire way of life which has turned to satan. You must bring your children out of the dark void that their elders have cast them into. |
"It will be the duty of all parents to bring the truth to their children. It will not be easy. Satan has it well planned that it will not be easy. You will have to fight the world and society. But how long will you be living in this society? Do you think of what will lie ahead of you? Have you forgotten the Kingdom? Have you given your bodies and your souls to the pleasures of this world, which will soon be ended for you?" - Our Lady, August 5, 1971

PROSPERITY WITHIN A FAMILY
"The foundation for a young life is found in the family. We find much lacking in the example of many parents. They have for­gotten their role as parents, and they are feeding their children well with the contaminating abundance of your nation and the world; however, their souls are being starved for the light.
"The role for the prosperity within a family is simple, My child. It is one of a dedication to the Eternal Father. What does it matter, My children, if you gain the whole world's goods and suffer the loss of your eternal soul? Your pilgrimage is but a short one upon earth. Have you stored your reward with Us, or have you given yourselves to the pleasures of the flesh and satan?" - Our Lady, March 18, 1975

EXAMPLE IN MANY HOMES IS POOR
"Mothers must teach their children the true Faith. Fathers must fulfill their mission as fathers to their children. The ex­ample in many homes is poor and will not be tolerated by the Eternal Father. Measure for measure, you shall reap what you have sown.
"Parents must give to their children the knowledge of the Commandments of the Father. No excuse is accepted for casting aside these Commandments.
"Discipline your souls, My children, your spirit! Dis­cipline your human body. Do not allow yourselves to be swallowed up in the mire of destruction." - Our Lady, March 18, 1975

VIOLATIONS OF THE LITTLE CHILDREN
"Oh, My children, My heart is torn, as a mother's heart is torn, when I see all of the crimes and violations of the little children being committed by parents, not only strangers, but parents of innocent children subjecting these innocents to all manner of debasement and violation! Woe to the parent that has given his child to satan for worldly gain.
"My children, filth is placed before your eyes; filth is taped in by the infernal machines of your television, and filth is being brought into your schools and all of your medias of communication!
"As it was in the days of Noe, as it was in the days of Sodom, so you now disport yourselves in a like manner. And I tell you, My children, the hand of My Son shall fall heavy upon you." - Our Lady, May 18, 1977

"THEY HAVE DE-CHRISTIANIZED YOUR CHILDREN"
"Parents, you have a great responsibility now for the salvation of your children's souls. You cannot turn them over to others to be trained, for when your children go outside of your doors, they are now as sheep among wolves! And many of these wolves are shepherds parading as angels of light, bringing doctrines of devils into My Son's House and schools....
"Parents, you must protect your children from all who have progressed into a new form of humanism and modernism. They have de-Christianized your children.
"Parents, I caution you, I warn you to train your children at home; keep the light of Faith in their hearts. Without this light, O parents, your children will turn upon you and many shall kill!" - Our Lady, May 18, 1977

HAVE YOU PREPARED YOUR HOUSEHOLD?
"I have cautioned you, parents, to protect your children. They must not be without a sacramental upon them! We are now at war, My children, a war of the spirits, far greater a war than man has ever experienced in the history of his creation. It is a war to a final battle. The sheep are being separated from the goats, the wheat from the chaff. My children, have you prepared your household for the test?
"Parents will assume the greatest responsibility for keeping Tradition and Faith, the firm foundation of Faith in the hearts of their children. There will be much woe set upon the earth by the evil one. 666, the forces of hell, are now doing full battle against the children of God." - Our Lady, June 16, 1977

LIBERATION?
"Paganism will not be tolerated by the Father, neither in your lay life nor in the House of My Son. It is an abomination for women to speak in the House of God! I hear a word—defilement of man, liberation? My child, what is this liberation women ask for? Satan has created the plan for their destruction. Take your Bible, take the Book of life and study it and learn!" - Our Lady, July 15, 1974
REBELLING AGAINST HER DESTINY
"My child, make it known to the world that woman must return to her place as woman, for she has been misled. Was it not woman who fell to satan in the beginning?
"Her disobedience to the will of God brings much sorrow upon her and her children. It would be better now, My children, if woman would be silent, for she does not know the road she is traveling. It is only satan who has set her to rebel against her destiny." - Our Lady, March 24, 1974
MAN THE BREADWINNER
"Where is the place of the man and father? Where has he gone from the homes? Why has woman sought to take his place? Satan has created this delusion. The place of woman is in the home and the rearment of the child. The man will be the breadwinner and safeguard his home." - St. Joachim, July 25, 1973
EXCHANGED ROLES
"As Saint Paul wrote to the Romans, that when man has given up God and replaced Him by the creatures, he would be abandoned, allowed to go onto his path of sin.
"Since women have exchanged their roles as women, preferring to be as men, and have abandoned their true, true value of life—have abandoned their role as a mother to carry the creation of their God within their wombs, they, therefore, will also find that their husbands and sons will find rejection of women, and men will seek lustfully pleasures with men, known, My child, as homosexuality. And they will be given and abandoned to their lust, until all creatures upon earth would live in fear. Women then will find themselves turning lustful eyes to women-lesbianism, My child." - Our Lady, September 28, 1974
STAND FORTH AS EXAMPLES
"They will do as they have done in the past in honor of the Father; and in the path of the Father, they will listen to their husbands and honor their husbands within the home. If they do thus, they will receive honor from their children. The example in the homes is very, very poor.
"So husbands, now, you will act with love to your wives, but you will keep them in discipline. Many of them have lost their way. Discipline. And wives, honor your husbands and do your role as mothers in honor to your God. We see the example of the homes is very poor....
"Womanhood must be returned to the state in which the Father created it. Right at this moment a great chastisement is coming upon you, for you have cast aside your role as women. This you will not do without receiving great chastisement.
"There will be division in homes unless the fathers stand forth as examples to their sons and daughters, and the mothers return to their roles as mothers in the light of God, the Father." - Our Lady, April 13, 1974
Directives from Heaven... http://www.tldm.org/directives/directives.htm
D16 - Role of Parents PDF
D179 - Women's Liberation PDF
D248 - Man's Authority PDF
D249 - Fathers PDF
D250 - Mothers PDF
D369 - Responsibility of Parents, Part 1 PDF
D370 - Responsibility of Parents, Part 2 PDF
EDITOR'S COMMENT: Evil is accelerating and the Anti-Christ forces are gaining power in the world. When the persecution starts, all Christian web sites on the internet will be forced to close. Be sure to have in your possession all the following items: the Bayside Prophecy books, Bayside Medals, Douay-Rheims Bibles, the Protection Packets, Candles, Sacramentals, and Religious Books. Purchase these items now while they are still available! You will urgently need them in the days ahead. Also, you can print out all PDF files for the Directives from Heaven and all of the Bayside Prophecies. Copy Our Lady's messages and the Directives from Heaven now while they are still available! Pray to the Holy Spirit for wisdom and guidance on how to prepare now and for the days ahead when the Antichrist is revealed. Viva Cristo Rey!
Articles...
Feminism:

Vatican warns that feminism is "lethal" to families
http://www.tldm.org/news7/feminism.htm

Marxist roots of radical feminism
http://www.tldm.org/news5/radical.htm

Why American culture and family are in disarray
http://www.tldm.org/News9/Gramsci'sPlanForDestroyingWest.htm

Robert Bork on radical feminism
http://www.tldm.org/news5/bork%5Ffeminism.htm

Reflections on "women's liberation"
http://www.tldm.org/news5/reflections.htm

St. Edith Stein on woman's nature
http://www.tldm.org/News8/St.EdithSteinWoman'sNature.htm

Fathers:

Top 10 father facts
http://www.tldm.org/News7/fatherhood2.htm

The Holy Bible on man's authority in the household
http://www.tldm.org/News7/BibleOnMan'sAuthority.htm

Fatherless boys more likely to grow up into dangerous men
http://www.tldm.org/News8/FatherlessBoys.htm

Rejecting our fathers, destroying our country
http://www.tldm.org/News9/RejectingOurFathers.htm
Links...
Feminism:

LETTER TO THE BISHOPS OF THE CATHOLIC CHURCH ON THE COLLABORATION OF MEN AND WOMEN IN THE CHURCH AND IN THE WORLD, Sacred Congregation for the Doctrine of the Faith, May 31, 2004
http://www.vatican.va/roman_curia/congregations/cfaith/documents/rc_con_cfaith_doc_20040731_collaboration_en.html

Vatican says feminism 'lethal' to families, Reuters, July 31, 2004
http://www.reuters.co.uk/newsPackageArticle.jhtml?type=topNews&storyID=557123&section=news

Feminism's Marxist roots, Dale O'Leary
http://www.ewtn.com/library/ISSUES/FEMINISM.TXT

Is feminism a mental disorder? Carey Roberts
http://www.theconservativevoice.com/article/15143.html

Feminist Assault on Reasonableness, Phyllis Schlafly
http://www.ewtn.com/library/ISSUES/PS1296.TXT

Morphing Catholicism into Eco-feminism, by Donna Steichen
http://www.ewtn.com/library/NEWAGE/ECO-FEM.TXT

The seduction of feminism, David Reardon
http://www.ewtn.com/library/PROLIFE/SEDOFF.TXT

On feminism, Jeff Nyquist
http://www.jrnyquist.com/2002february4/on_feminism.htm

Fathers:

Fatherless boys at risk, Fathering magazine
http://www.fathermag.com/809/sanfrancisco.shtml

Research shows that fatherhood really matters, Tallahassee.com, April 20, 2002
http://www.tallahassee.com/mld/tallahassee/news/opinion/3100697.htm

Air-brushing dads out of the picture, Carey Roberts, June 8, 2004
http://www.renewamerica.us/columns/roberts/040608

Yes, fathers are essential, Carey Roberts, July 15, 2004
http://www.renewamerica.us/columns/roberts/040615

Turning men into milquetoasts, Chuck Baldwin, April 5, 2005
http://www.renewamerica.us/columns/baldwin/050405
There are 4 Things You Must Have to Survive the End Times:
1.) The Douay-Rheims Holy Bible...
"I ask that all who hear My voice will take their Bibles, and if they do not have one, search, but find the right Bible, those printed not after 1965, My children." - Jesus, October 5, 1985
"You must all obtain a copy of the Book of life and love, the Bible. Do not accept the new mods. Try to find in your bookstores the old Bibles, My children, for many are being changed to suit the carnal nature of man. I repeat, sin has become a way of life." - Our Lady, October 6, 1992
"I must ask you all to read but a few short chapters a day now, the Book of life and love, your Bible. Knowledge must be gained for all the disciples of My Son, for you will be attacked by scientific minds. But do not be concerned what you will say to them when accosted, for the words will be given to you by the Spirit." - Our Lady, April 10, 1976
The Douay-Rheims Bible was published in 1899. It is the official Bible of the Roman Catholic Church. Almost all other Bibles have been rewritten by Satan. See: http://www.tldm.org/directives/d33.htm , http://www.tldm.org/directives/d415.htm and http://www.tldm.org/directives/d182.htm If you don't have a Douay-Rheims Bible order it now! (Order Form) Yours and your loved ones salvation could depend on it.
Read the Bible cover to cover. If you read 4 chapters a day, you will complete the whole Bible in 334 days. I have read the Bible 2 times and working on the third time. A 75 year old Baptism gentleman told me that he and his wife have read the Bible nine times. Wow!
2.) The Complete Virgin Mary's Bayside Prophesies in 6 Paperback Books...
The Virgin Mary brings directions from God, the Father in Heaven on how to survive the end times. God, the Father, through the Virgin Mary, tells what is coming, how to prepare for it, how to survive it, and how to even stop it. These six volumes along with the Bible are most important to save yourself and your loved ones. Order it now. Tomorrow may be to late. These 6 pocket size paperback books costs $33.00. (Order Form)
3.) Heaven's Home Protection Packet...
Heaven's Home Protection Packet...
Our Lord stated we must have crucifixes upon the outside of all of our outside doors. In the "Heaven's Home Protection Packet" there are instructions, four crucifixes, a tube of special cement for wooden or metal crucifixes. Wooden crucifixes adhere better to the doors when the aluminum strap is removed from the back. Put a light coat of cement on the back of the crucifix and then press it to the outside of the door. If you have any problems, you can call us at 616-698-6448 for assistance. This Heaven's Home Protection Packet is available for a donation of $10.00 plus $4.00 shipping and handling. Send $14.00 to TLD Ministries, P.O. Box 40, Lowell, MI 49331. Item # P15 (Order Form)

Crucifix on front and back door... The only real protection against terrorists...
Jesus - "Pray and wear your sacramentals. And, also, My children, I ask you again to place a crucifix upon your door. Both front and back doors must have a crucifix. I say this to you because there will be carnage within your areas, and this will pass you by if you keep your crucifix upon your doors." (6-30-84) (Testimonies of lives and homes saved by the crucifixes.) http://www.tldm.org/news/crucifix.htm (Order Form)
4.) Heaven's Personal Protection Packet...
Heaven's Personal Protection Packet . . .
Our Lady tells us to be protected from all evil, we must wear the following sacramentals around our necks: a Rosary, a crucifix, the St. Benedict medal, Our Lady of the Roses medal, the Miraculous Medal, and the scapular. We have all of these sacramentals in a packet we call "Heaven's Personal Protection Packet." This packet is available for a donation of $7.00 plus $3.00 shipping and handling. Send $10.00 to TLD Ministries, P.O. Box 40, Lowell, MI 49331. Item # P5 (Order Form)

Our Lady of the Roses, Mary Help of Mothers promises to help protect our children. On September 13, 1977, She said, "He has an army of ogres wandering now throughout your country and all of the countries of the world. They are in possession of great power; so wear your sacramentals, and protect your children and your households. Learn the use every day of holy water throughout your household. Insist even with obstructions, insist that your children always wear a sacramental. One day they will understand that they will repel the demons."
On February 1, 1974, Our Lady said, "My children, know the value of these sacramentals. Guard your children well. You must awaken to the knowledge that you will not be protected without the sacramentals. Guard your children's souls. They must be surrounded with an aura of purity. Remove them if necessary from the sources of contamination, be it your schools or even false pastors."
This Heaven's Personal Protection Packet is available for a donation of $7.00 plus $3.00 shipping and handling. Send $10.00 to TLD Ministries, P.O. Box 40, Lowell, MI 49331. You may use your MasterCard, VISA, or American Express and call 1-616-698-6448. Item # P5 (Order Form)
Your names have been written in Heaven… "It is not by accident that you are called by My Mother, for your names have been written in Heaven.... But with this great grace you have great responsibility to send this Message from Heaven throughout the world, for if you are able to recover just one more for Heaven, an additional star shall be placed in your crown." - Jesus, August 5, 1975
A great obligation to go forward... "It is not by accident that you are called by My Mother, for it is by merit and the prayers that have risen to Heaven for your salvation. For those who have received the grace to hear the Message from Heaven, you have a great obligation to go forward and bring this Message to your brothers and sisters. Do not expect a rest upon your earth, for you will have eternal rest very soon." - Jesus, June 12, 1976
The sin of omission... "The sin of omission shall condemn many to hell, be they layman or Hierarchy. I repeat: not the sin of commission, but the sin of omission will commit many to hell." Our Lady of the Roses, October 6, 1980
My gift to help spread Our Lady of the Roses' messages to the world.

We encourage everyone to print or email copies of this web page to all the Bishops and all the clergy. Also, email or send this web page to the news media and as many people as possible.
| Home - Latest News | Introduction | Bayside Prophecies | Directives from Heaven | Order Form | Miracles & Cures | Veronica Lueken | Miraculous Photos | Bible | Radio Program |
The electronic form of this document is copyrighted.
Quotations are permissible as long as this web site is acknowledged with a hyperlink to: http://www.tldm.org
Copyright © These Last Days Ministries, Inc. 1996 - 2017 All rights reserved.
P.O. Box 40 616-698-6448
Lowell, MI 49331-0040
Revised: June 12, 2017