Living with the Greatest American Lie...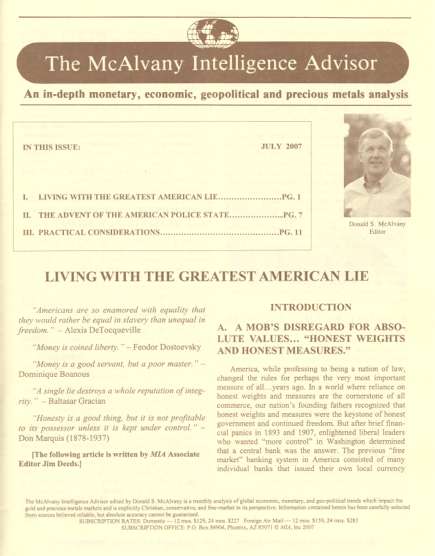 Living with the Greatest American Lie report...
This incredible report warns us that the US dollar is quickly becoming worthless. The American people are hoarding money that will soon be worthless. Banks and companies will fall. The country's workforce will be banished to the streets. This report also warns that America is rapidly becoming a police state. Everywhere you turn the government it looking over your shoulder. The media only gives you the government's version of the story. Welcome, 1984. George Orwell's fiction is rapidly becoming reality. This report costs $5.00. Be sure to read the awesome Bayside Prophecies below.
The awesome Bayside Prophecies... http://www.tldm.org/Bayside/default.htm
These prophecies came from Jesus, Mary, and the saints to Veronica Lueken at Bayside, NY, from 1968 to 1995:
MONETARY CRASH
"Soon, in the plans of the Eternal Father, He shall set forth and allow to come upon mankind a great money disaster. In this way it will prove to you that the disaster back in the 1920's, My children, was as nothing compared to what will happen now. I talk of a great depression coming upon mankind. This is well planned by those in control." - Jesus, October 1, 1988
WORLD SEES ONE BIG MASSIVE DEPRESSION
"My child and My children, the days will grow darker, and there will be hunger in your land. Yes, My child, what I brought you here for this evening is to tell the world that there will be a crash in the monetary doings of your government—an absolute crash that will affect every man, woman, and child in the United States and Canada, and then, like a serpent, creep all over Europe, until the world sees one big, massive depression." - Our Lady of the Roses 9-7-85
Click here to email this page to a friend.
| Home - Latest News | Introduction | Bayside Prophecies | Directives from Heaven | Order Form | Miracles & Cures | Veronica Lueken | Miraculous Photos | Bible | Radio Program |
The electronic form of this document is copyrighted.
Quotations are permissible as long as this web site is acknowledged through hyperlink to: http://www.tldm.org
Copyright © These Last Days Ministries, Inc. 1996 - 2007 All rights reserved.
P.O. Box 40 616-698-6448
Lowell, MI 49331-0040
Revised: December 27, 2010