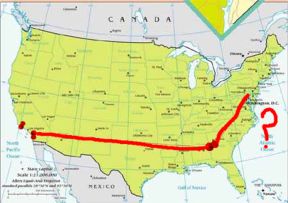 In 1977 Veronica was shown a vision of the United States, with locations pinpointed on the map that correspond to major U.S. military facilities. She was inspired to believe that these locations represented "landing points for something going to happen" to the United States.

Intelligence report indicates that Chechen terrorists entered the U.S. through Mexico...
"My child, let the world know that Nicaragua is a center point for the capitulation of the United States of America and Canada. Already there are plans afoot, and in the making, with missiles and all dire instruments of destruction. These plans are being formulated from Nicaragua, to go into Mexico, and thereupon into the United States." - Our Lady of the Roses, June 18, 1987
The Washington Times reported on October 13, 2004:
U.S. security officials are investigating a recent intelligence report that a group of 25 Chechen terrorists illegally entered the United States from Mexico in July.
The Chechen group is suspected of having links to Islamist terrorists seeking to separate the southern enclave of Chechnya from Russia, according to officials familiar with intelligence reports.
Members of the group, said to be wearing backpacks, secretly traveled to northern Mexico and crossed into a mountainous part of Arizona that is difficult for U.S. border security agents to monitor, said officials speaking on the condition of anonymity.

It could not be learned whether the reported infiltration is related to the recent Education Department warning to school officials to examine security in the aftermath of the attack last month by pro-Chechnya Muslim terrorists on a school in Russia, in which more than 300 people were killed and some 700 wounded.

Other indicators of terrorist surveillance can include spying on school security drills, people staring at employees or vehicles in parking areas, and surveillance by pedestrians.
Fears of an attack on American schools also were raised by the recent discovery in Iraq of a computer disk containing data showing the layout of six schools in the United States, including districts in California, Florida, Georgia, Michigan, New Jersey and Oregon.

Intelligence officials said a suspected al Qaeda leader who has been in the United States was spotted recently in Mexico. Officials believe Adnan Shukrijumah, whom the FBI wants for questioning, met with alien smugglers in Mexico and Honduras and was seeking ways to bring al Qaeda members into the United States. Shukrijumah was seen in August in the Sonora province of northern Mexico, officials said.

The intelligence report was supplied to the U.S. government in late August or early September and was based on information from an intelligence source that has been proved reliable in other instances, one official said.

Veronica - There are now areas being like pinpointed upon the map. I see California. It looks like southern California, and there are two dots on that side of the map, two in southern California.
Now there is a line developing. It's sort of an area—I can tell that it's a line that's marking out something. It's going directly across the southern part of the United States, and it's stopping just over the left border of Georgia, and there's one point being made there. They're like—seem to be landing points for something going to happen.
Now the line continues and it's now swerving upward and it's going into North Carolina. And then, suddenly the line is like—oh, I don't know—taking a fast curve over to the east coast. But then, as it goes along the coast, I see a large question mark. It appears to—that line appears to be heading northward along the east coast, and there's another question mark. I don't know how to explain it. It's a very ominous looking map.
Our Lady - "You will understand soon, My child." - April 9, 1977 [Read more...]

Report information suspected terrorist activity to your local FBI Field Office (http://www2.fbi.gov/contact/fo/info.htm) or to the FBI Tip Hotline: (866) 483-5137. To send a statement to the FBI via the internet, go to "REPORT TERRORIST ACTIVITY" at the following site - click here...
Our Lady of the Roses awesome Bayside Prophecies... http://www.tldm.org/../Bayside/
These prophecies came from Jesus, Mary, and the saints to Veronica Lueken at Bayside, NY, from 1968 to 1995.
MASS DESTRUCTION, SLAUGHTER
"America, your country, the United States, a land of plenty, has never witnessed mass slaughter and death, but My children, unless and I say, unless you turn back now, your country will witness death such as never has gripped the heart of man before, a terror brought about by the knowledge that there has been a rejection of truth, a rejection of your God." - Jesus, December 7, 1976
YOU WOULD GROVEL ON YOUR KNEES
"If only I could show you, the prideful and boastful United States and Canada—if I could show you what the enemy has in store for you now, you would grovel on your knees to make restitution to the Eternal Father. But now this must be taught to you in a most sorrowful way."
Our Lady, September 27, 1986
YOU LIVE IN A DREAM WORLD
"My children, awaken from your slumber! You live in a dream world. You believe that this cannot happen to you. O My poor children in North America—Canada, the United States-you do not know what it is to see the blood flow in the streets, to see your loved ones torn—their arms, their legs missing, their bodies and their bowels spewing out upon the grounds. Is this what you want?" - Our Lady, June 18, 1982
FROM COAST TO COAST
"Your country, the United States, My child, shall have great trial—the winter and the wars. There shall be internal strife in your government, and your streets will become running with blood. It is not a sight, My child, not a pretty sight! Oh! Oh!
"That carnage, My child, that you view shall extend not only from the cities into the country, but from coast to coast in all of North America and the world." - Our Lady, October 6, 1980
Directives from Heaven... http://www.tldm.org/directives/directives.htm
D10 - Consecrate Russia PDF

D103 - Communism PDF
D104 - Invasion PDF
D139 - Preparations: Spiritual PDF
D140 - Preparations: Material PDF
D156 - Terrorism PDF
D158 - America the Beautiful PDF
Articles…
Planned U.S. invasion through Mexico
http://www.tldm.org/news3/Nicaragua.htm
Landing points vision
http://www.tldm.org/News3/landing_points.htm
Russia plans to invade the U.S. with missiles
http://www.tldm.org/news2/missiles.htm
Al Qaeda might to try exploit security gaps in the Mexican border
http://www.tldm.org/news7/Al-QaidaMexico.htm
Are terrorists breaching U.S. - Mexico border with tunnels?
http://www.tldm.org/news6/tunnels.htm
Russian arms network seen behind Al Qaeda
http://www.tldm.org/News4/arms_network.htm
Links...
Chechen terrorists probed, Washington Times, October 13, 2004
http://www.washtimes.com/national/20041013-121643-5028r.htm
'WMD' smuggled into U.S. from Mexico: Border-watch group carried in fake weapon to show vulnerability, WorldNetDaily, July 29, 2004
http://www.worldnetdaily.com/news/article.asp?ARTICLE_ID=39682

Terrorist base south of border: Paraguay sees major influx of Arabic-speaking 'Europeans', WorldNetDaily, December 1, 2003
http://www.worldnetdaily.com/news/article.asp?ARTICLE_ID=35881

The communists return to Nicaragua, Newsmax, September 3, 2003
http://www.newsmax.com/archives/articles/2003/9/2/225540.shtml

The silent invasion: Is China preparing bases in Mexico?
http://www.jrnyquist.com/nyquist_2003_0627.htm

Terrorists said to seek entry into U.S. via Mexico, Washington Times, April 8, 2003
http://washingtontimes.com/national/20030407-892247.htm

Mexican Authorities Detain Iraqi Citizens at Border, Fox News, February 13, 2003
http://www.foxnews.com/story/0,2933,78544,00.html

Arabic Diary found near border, WorldNetDaily, February 13, 2003
http://www.worldnetdaily.com/news/article.asp?ARTICLE_ID=31027

Arab terrorists crossing border: Middle Eastern illegals find easy entrance into U.S. from Mexico, WorldNetDaily, October 19, 2001
http://www.worldnetdaily.com/news/article.asp?ARTICLE_ID=24987
| Home | Introduction | Prophecies | Directives | Order Form | Testimonies | Veronica | News | Photos | Bible | Magazine | Newsletters | Radio Show |
We encourage everyone to print or email copies of this web page to all the Bishops and all the clergy. Also, send this page to as many people as possible.
The electronic form of this document is copyrighted.
Quotations are permissible as long as this web site is acknowledged through hyperlink to: http://www.tldm.org
Copyright © These Last Days Ministries, Inc. 1996 - 2004 All rights reserved.
P.O. Box 40
Lowell, MI 49331-0040
Revised: April 02, 2012