Jesus in the Most Blessed Sacrament
Eucharistic Adoration online - Click here...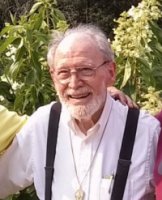 Gary Wohlscheid, founder and president of These Last Days Ministries passed away on 4/7/22.
Eternal Rest grant unto home O Lord. And let Perpetual Light shine upon him.
May his soul and all the souls of the faithful departed through the mercy of God rest in peace. Amen.
Click here for obituary.
More News!
6/24/22
Missouri becomes first state to make abortion illegal after SCOTUS ruling
Globalists want you to eat 'climate friendly' meat yet hide unpleasant truths about the product
6/22/22
Why Is the Army Rushing to Repaint Its Desert-Camo Vehicles Green?
6/10/22
FBI 'Purging' Employees With Conservative Views: Rep. Jordan
Gas Prices Hit Record $4.99 As Runaway Inflation Kills Consumer Confidence
"Abortion Activist Charged With Threatening to Murder Justice Brett Kavanaugh
6/9/22
Fire at Texas liquefied natural gas plant could worsen the European energy crisis
This homosexual California senator wants to add drag queen shows to K-12 curriculum
"You All Are Delusional If You Think This Is Going to Keep Us Safe" – MUST SEE: Lucretia Hughes Speaks to Congress and Gun-Grabbers After Her Son was Shot Dead Point-Blank in the Head by Criminal with an Illegal Gun (VIDEO)
6/8/22
11 times a good guy with a gun stopped a bad guy, saving lives
6/6/22
French Bishop Strips Seminarians of Cassock
Biden's State Dept gives pass on Christian persecution
Several Tampa Bay Rays decline to wear LGBTQ logos for religious reasons
6/3/22
Woke corporations signal devotion to Pride Month around the world … except the Middle East
Illinois Lets Teen Girls Get Secret Abortions Without Their Parents Knowing
CBS Mini-Doc Shows Tik Tok Is A Ground Zero For Kids Learning About Transgenderism
6/2/22
Florida State Health Agency Issues Report Challenging Science of Transgenderism
Pope Gives Liturgical Vandals Worship Office
6/1/22
Dr. Robert Malone: Wartime 'victory gardens' can help us reject consumerism and reclaim self-sufficiency
The Fed Chair Explained How He Flooded the System by Printing Money
5/31/22
Homosexuals appear to be replacing Christians in the conservative movement
Idaho high school removes pornographic books thanks to parents' persistence
Cancer Increases by Almost 2000% Says Dr. Eads as Jab Damages Immune Systems
5/26/22
75% of Fortune 500 CEOs believe a recession is inevitably on the horizon
Same Left That Freaks Out Over Ivermectin Wants To Pump Kids Full Of Transgender Hormones
Texas becomes latest state to quit disgraced National School Board Association
5/25/22
Bill Gates funnels hundreds of millions of dollars to sink Twitter if Elon Musk restores free speech
Biden Admin: K-12 Schools Must Put Boys In Girls' Bathrooms To Get Federal Lunch Money
Dr. Ben Carson: Unborn Babies are Human Beings Because "Life Begins at the Moment of Conception"
5/23/22
Putin's Useful Idiots: How U.S. Climate Extremists Are Funding Russia's Agenda
5/18/22
Stupidocrisy: The unvarnished truth
Spending Mindlessly On Ukraine Is A Threat To U.S. National Security
While Communist China Expands Its Threat To The Globe, DC Is Still Acting Like It's 1991
5/12/22
As Gas Prices Set New Records, Biden Nukes More Oil And Gas Projects
The Mother Of All Collapses Has Begun
A Reckless Policy Of 'Bleeding Russia' Risks Getting The United States Into A Foolish Foreign War
'Supply Chain Disruptions' Are Not An Accident, They're The Logical Result Of Stupid Lockdowns
5/11/22
Satanists Plan Court Challenge Claiming Abortion a Religious Ritual
The world is 'crying out for diesel.'
White House affirms support for protests outside Supreme Court justices' homes
5/10/22
FULL LIST: Pro-abortion vandalism, church storming over possibility Roe v. Wade will fall
Experts: Even a "Small" Nuclear War Between US-Russia Will Likely Cause Billions of Deaths
Orban: Shortages of Ukrainian and Russian Grain Means 'Famine in Many Parts of the World', More Migration Pressure
2017
True Scale of Nuclear Bombs is Totally Frightening
Scotland to be consecrated to the Immaculate Heart of Mary
Manmade Plague of Fatherlessness Video
Did the Vatican Donate To Hillary's Campaign?
Interesting Details in the Eclipse Video Footage
You Can Become an Apostle or Disciple of Jesus and Play a Part in His Second Coming.